Thomas Drage – Tromsø IL
"Offensive midfielder with lightning pace and great technique"
Even if the lad is only 20 years old (birthday today); he has gained so much experience in such short time. Still the management, in my view, is still unsure of what role they should play Thomas Drage in. He`s played much as a left winger, but does he fit that bill? Does the club take full advantage of the amount of ability he possesses? With 11 assist and 3 goals last season one could be tempted to say yes. However, I disagree. The club still don`t seem to play him in an ideal position; offensive midfielder with a more dedicated approach in the middle.  His right foot is exceptionally good and with his delivering from set pieces it is a deadly weapon on every occasion. In the middle of the park he would be an even more handful for opponents to deal with. He will get more space and create more chances for his teammates and for himself. He would still be the obvious choice for all the set pieces allowing him to take full advantage of his right or left foot. A player like Thomas Drage is capable of scoring 8 goals per season, I am tempted to say 10, and by moving him more in the middle would increase his chances of achieving such tally. The case with talented players, such as Thomas Drage, they tend to adapt into the role as they are given. That`s the case with Drage – he`s adapted into the role as a winger and does the best out of the role. Still he could be played more in the middle to take full advantage of his talent.
This is the third scouting report published on the website. It might be strange for some people that another player from Tromsø IL is published on the website. But nevertheless I will back it up with numerous reasons of why he`s privileged to be on our site. Having that said, Tromsø IL has been one of the most consistent teams in Norway recent years, so it might be justice for them that their talent work gets some appraisal.
In 2010 Thomas Drage made his first appearances on the pitch for a side who`s got ambition too field many players from their northern region. Not anything like Bilbao in Spain, but nevertheless an interesting project. With Drage fitting those criteria it was an easy choice for him when getting the opportunity to play for the club. He could have chosen to play for Rosenborg at the time, but Tromsø IL ambition, together with their youth and region policy, proved to be the decisive factor for him. All in all this was an example of how hard work, together with a solid portion of self-discipline, eventually paid off when he signed for Tromsø IL.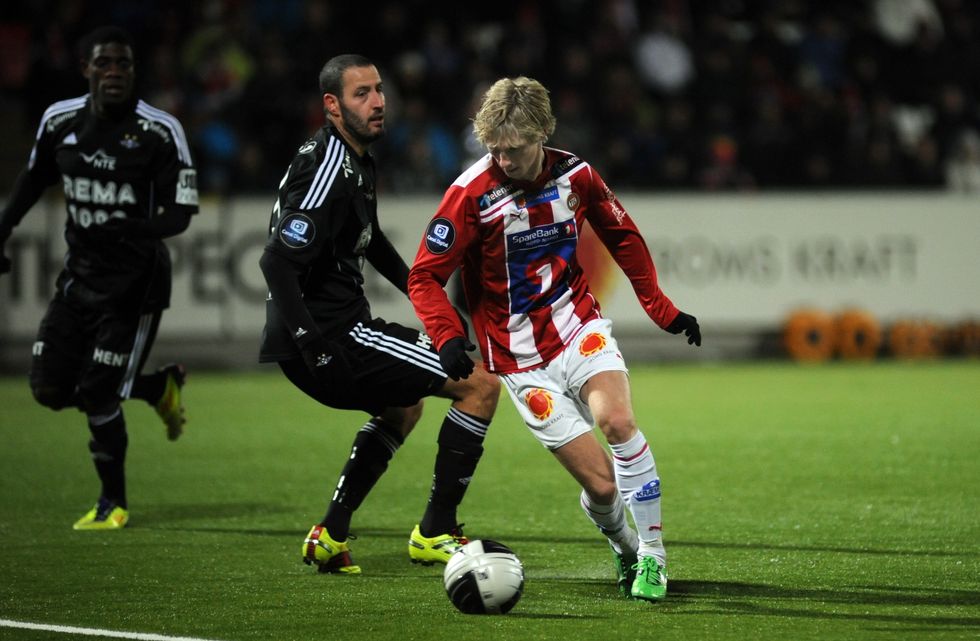 Thomas Drage played his youth football for his local club, Mosjøen IL. He made his debut aged 15 and then became their youngest player ever to play for their first team. Even then he wasn't the player that stood out as the youngster with the most talent. In his region there were other players who were rated as much bigger talents than himself. His father became more and more a bigger resource for Thomas Drage`s development – being his mentor and leading him through the different stages of the game. He became an influential part in his son's football career by helping him getting the right amount of matches of an high enough level to improve his game at all time. For Thomas Drage it also meant he must train harder, and do much training on his own, in able to achieve the progress that his father knew were required at a higher level.
The supporters in Tromsø were curious about this rare talent and when he got the chance in 2010 he wasn't going to do play it safe. His game approach was the same as it always have been – playing his own set of game. You could at an early stage see that he was some sort of an unshaped diamond who only needed polishing. He came on as a substitute on a few occasions in the first season and he gave some glimpses of his talent whenever getting the opportunity. He spoke quite frequently to the media at the time and when asked about former Tromsø IL start, Morten Gamst Pedersen, he made it clear that he intended to achieve greater things than Pedersen had done in his career. Some people didn't like his comments and were saying that he was arrogant. I saw people saying like; Does he really think that he`s that good? What has he proven? I saw the interview on the television several times and I laughed. He gave the impression like saying "Who is Morten Gamst Pedersen?".  What an arrogant thing to say, but then again what an ambitious thing to say. Players who can back up such attitude with performances, of the same caliber, on the pitch – you defiantly get my attention as a scout.
When falling out of the pecking order, in his first season, he just got on with improving the areas that he needed to fulfill his potential. When the 2011-season kicked off no one actually thought he would be in the frame for a regular starting position; except himself. And he delivered from the start.
What struck me the most when seeing him enter the pitch in the start of his career was the amount of pace he possessed. In the start he was a bit overenthusiastic in his approach to the game, making him not able to take full advantage of this strength. During his career start for Tromsø IL I have seen a quite remarkable improvement in this area. His pace, timing of the run and cleverness to find gaps in the opponents side have seen he become a handful for every team in the league.
I picked up something last year when watching Drage in action. At first it seemed funny, but the more I studied his movement the more I understood it. Often when Drage receives the ball from his teammate he seems to get into a "frozen-condition" with his body leaned a bit over the ball. This maneuver makes him so unpredictable. When defenders sees this movement one could bet on that Thomas Drage intends to have a go at him. It might seem like an easy read for the defender, but with the amount of pace he possesses, a strength he now use more cleverly, he goes either on the inside or on the outside. For Drage this doesn't make a difference as he is a two footed player. His gearshift from standing in this "frozen-condition" is enormous as he drives forward looking for opportunities to deliver in crosses in the box. Having that said, when he receives the ball he could sometimes pass the ball to a team mate and then immediately go on a deep run. It means that opponents must be on top of their game to keep track of his often unexpected maneuvers.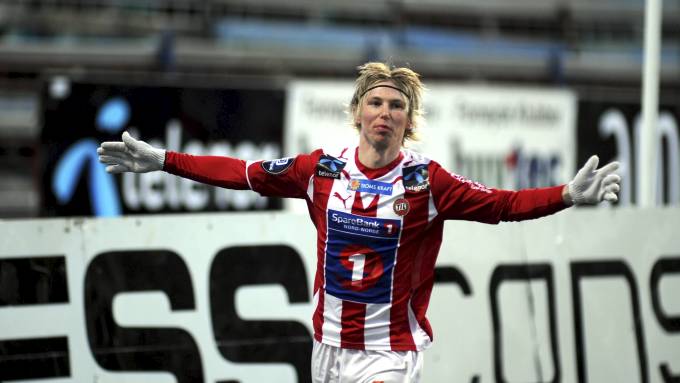 This is an example on a situation that happened several occasions last season when Thomas Drage were facing a defender; He makes a few oversteps maneuvers over the ball, defender is reluctant to make a challenge as he knows he might find himself outpaced, Drage then decides to deliver an early and unexpected cross in to create another goal. So even if the defender are more aware of his capabilities of dribbling past opponents, he has progressed during the 2011-season to be more unpredictable when facing the defender 1 on 1. He has matured and adapted himself as an offensive midfielder who can create trouble for defender on his own.
Thomas Drage tendency to disappear in matches was shown on several occasions last season – but only in away matches. At home he was brilliant for nearly the entire season, but his away performances showed signs of a player who struggled to find his place on the pitch. I believe this is just a confidence problem that he will find the secret code too in the very near future. The player himself is quite aware of this problem in his game and is working to improve it. In the beginning of the season he got substituted in one match after only 30 minutes, but it was never the case later in the season. It indicates to me that he has improved in this area, but he still has a way to go before he`s ready for bigger challenges.
Due to his lack of strength and heading ability he isn't the kind of a player you would keep inside the box when defending. In my view every side fielding such players must use them up front when the side is defending. Often his current team plays Thomas Drage this way, allowing him to take on defenders when getting the chance up front. He`s so unbelievable hard for defenders to handle in those situations. Defenders know, at least by now, that he will take them on even when receiving the ball alone up front. One got to love such a unique skill of any attacker!
With his excellent season last year the club was more than willing to tie him up on a better and a longer contract. Thomas Drage showed character and signed the contract. He`s ambitious and with an appetite of challenges beyond any of the leagues in Scandinavia can offer. Having that said he knows that he has got things to learn in the Norwegian league still, but his time in a big league will come. No question about that. That is the reason why he gets his name on our website. This is a player to keep a close eye on. I would just love to see Thomas Drage in the Portuguese, Italian or Spanish league. The question is more whether other clubs, in different leagues, will bring him on board before these three nations starts to show desire to bring him in.  However, their interest is bond to come during the next years. Tick tack – let the race begin!
Scouting report on Thomas Drage written on 20.02.2012
Øyvind Christoffer Johansen
Chief scout, Scandinavian Scouting Agency