DAME N`DOYE – FC COPENHAGEN
"The Senegalese striker has got the abilities of playing against the best defenders in the world – week in and week out.
Dame N`Doye has undoubtedly been the best and most influential striker in the Scandinavian leagues recent years. His goal scoring record speaks for itself: 72 goals in 134 appearances, in all competitions, for FC Copenhagen. That surely indicates that we are talking about a proven striker at the highest level in Scandinavia. He`s also played in Champions League (2010/2011) and in the Europa League (2011/2012). Last year the Senegalese national team brought him in to their squad.  Dame N`Doye has responded in typical fashion by scoring several goals since his debut. His last goal for them came in the Africa Cup of Nations a few weeks back.
He is a big lad, standing 186 cm, but surprising defenders with the speed at which he covers ground, particularly chasing lost causes and closing the opposition down when they think they have more time on the ball than they actually do. At times he`s got criticism of being a bit lazy by not running enough on the pitch. He`s improved in this area since the start of his career, but still in some matches he tends to not make those defensive runs that is expected from him. Still In those matches he only needs one chance to put the ball in back of the net.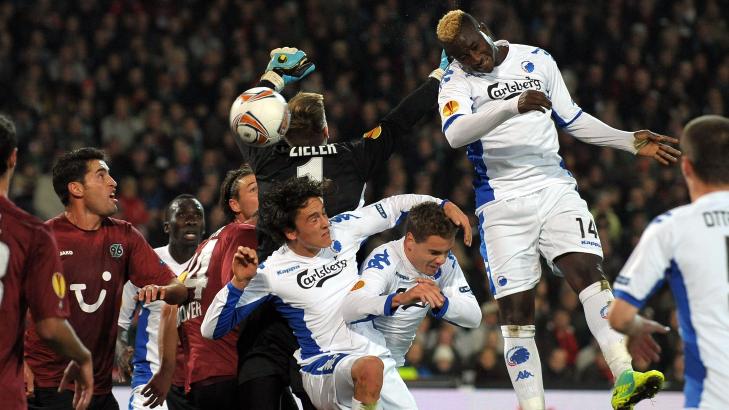 So often his first touch is incredible good. In matches it has automatically created big chances for himself or his teammates on numerous occasions. His first touch is often directly passed to his teammate before he goes on the run expecting the ball back. Sometimes N`Doye plays the ball a bit in front of him before having a shot with his powerful right foot. He can finish with both feet, but he defiantly prefers finishing with his right foot. If he gets time and space he is the sort of a striker who will have a go at any defender. If he sees a gap or weakness in the opponent's side, he will use his strengths to outmaneuver the opponent. He often tends to dribble past the defender and run straight through the defense. On other occasions he just simply outmuscles the defender before running through facing the goalkeeper. In those one on one-situations there is not many finishers who is as calm as Dame N`Doye.
His aerial ability is amongst the best in Europe nowadays. His strength together with his timing is nearly impossible to defend against. Of his record of 72 goals – incredible 29 goals has come from headers. Even some goalkeepers find it hard to come up against him in the air. That tells you quite a bit of what he`s all about.
In my view there is three possible scenarios for the Senegalese striker during the next transfer window; He will stay with FC Copenhagen, He will move to one of the best leagues in Europe or He will move to another club – purely based on money.
A football focused and offensive minded Dame N`Doye has got the qualities which is needed to succeed at the highest level. If FC Copenhagen fights off future bids on the striker they will do themselves a huge favor. One question that arises in such scenario; have the Danish club got the finances of keeping such proven striker? At least they must win the title this year which eventually will see them enter the group stage in the Champions League next season. But N`Doye has been in the capital of Denmark since 2009, so I would reckon that he will be tempted to prove himself at a higher level. If he leaves Denmark I hope that he will stay in the game purely based on his football ambitions. Money is obviously a huge factor in modern football, but with him being in his prime age as a striker, he would do himself, and the football fans, a favor to keep playing in Europe.
Scouting report on Dame N`Doye written on 06.03.2012
Øyvind Christoffer Johansen
Chief scout, Scandinavian Scouting Agency