As an independent football scout it amazes me every time a player performs in a world cup and then suddenly attracts interests from every top club in Europe. The player's talent was already there, but someone failed to see it is my conclusion.
It happens every year and those who eventually fail to sign the player must take lesson from it. This is why I personally thinks the benefit of having neutral sources, such as Scandinavian scouting agency, becomes a valuable asset for your club. We discover players potential before they show it to the rest of the world. If you want to have more information on any players in Scandinavia then contact us. The same applies if you need help finding the next diamond from this northern region. We are here to improve the game and that includes your club.
The list under provides information on some of the top youngsters in Scandinavia under-17. Every player under is someone we have known before they made their debut for the first team. What each player share is the ability to become footballers capable of playing in the big leagues in the future. The team at Scandinavian scouting agency will only publish a short version on the website. For clubs who wants the extended version with scouting reports on individual players could get in touch with us through the contact page.
1. Carlos Strandberg
The Swedes Under-17 got the bronze medal in the world cup 2013. It was an incredible achievement, which for me shows what the next generations of Scandinavians are capable of.
The squad was packed with quality from back to front and I expected Strandberg to play a significant part in this tournament. Instead he played the second violin, filling in for Valmir Berisha when required. He got himself into the starting lineup a couple of times, but he was not getting the opportunity to shine as Berisha did.
Looking back I feel that his national team coach made a mistake. I honestly believe they would have won the tournament if they had played Strandberg in a more central role. Had they figured out how to play Strandberg alongside Berisha there wasn`t any defense in the tournament that would be able to stop them. It`s a big statement I know, but for me its more the case of understanding the quality of the big Swede.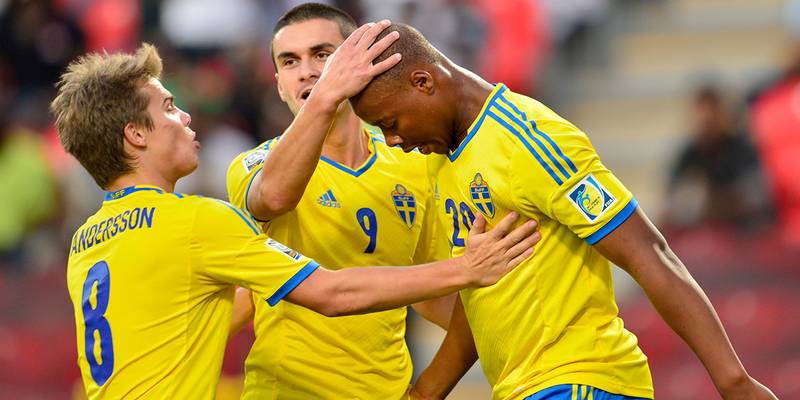 Berisha obviously got the headlines after a great tournament making every big clubs in Europe wanting to sign him. Strandberg who were left in the shadow didn`t get the attention which for me is very surprising. His talent is there and he will play in the bigger leagues one day – why should the smaller teams, with great ambition, not make an effort before every big club realize his potential? For the time being the club that can sit back and relax is BK Hacken. They know that his price tag will rise every week, as was the case with Waris Majeed in 2012.
Strandberg is a big and muscular young player. That was the first impression I got when watching him when he still was a fairly unknown player. He terrorized defenders at youth level and already last year we could see that he was going to make defenders suffers at the highest level in Sweden.
He is a very nice and down to earth kind of guy outside the field. He`s got ambition to play in one of the big leagues, but for the moment he is learning the grades for BK Hacken. In some way I feel his current situation is similar to Waris Majeed when he still was at BK Hacken. Majeed had to wait until Mattias Ranegiè was sold in order for him to shine. Everyone knew that Majeed was just waiting for the opportunity, but he was patience like Strandberg. Instead of moaning about playing time Waris Majeed learned from Ranegiè in areas he needed to improve on. That is exactly what Strandberg is doing at the moment, learning every day from his mentor and best striker in the league: Moestafa El Kabir.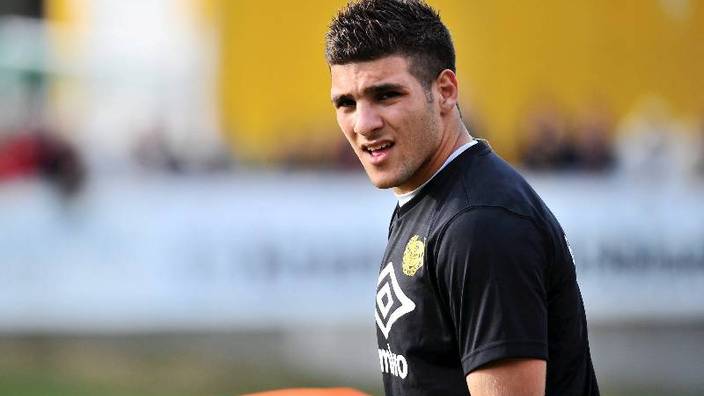 When I recently attended a training session with BK Hacken I put an extra focus on Carlos Strandberg. He is learning and making easy mistakes, but he is eager to learn more. After missing an easy chance in front of goal he is the sort of striker who will have a go again and again until he gets it right. He doesn`t get distracted very easily. For a striker to have such quality, to not be blundered by your mistakes, is something that is always very satisfying seeing.
When the coach wanted the players to gather up in the mid-circle Strandberg was the last man arriving. He had to get the finishing right before running back to the rest of his teammates. It`s not about bad discipline, not at all – it is simply unbridled enthusiasm which should be appreciated rather than disciplined.
I remember speaking to Kjetil Wæhler last season about Strandberg. He admitted that the young BK Hacken striker was a handful, but his routine outmaneuvered Strandberg back then. And Wæhler was 100% right as he wasn`t going to let any kid play his young fruitful tricks on him. We all know that there comes that specific moment in time when young talent beats even the most experienced player. Will it be this year? I believe so as Strandberg is showing signs of better understanding in all areas. We are seeing signs of a player who got more confidence and knowledge required to use his strengths to outmaneuver his opponents.
Pace combined with muscles were the combination to be successful during my own youth days. Strandberg has brought this to the highest level and is not respecting any defender on the pitch. Often you see youngsters getting their chance at the highest level and accept that this is a new arena for them – accepting knocks on their feet without giving anything in return. Hesitant and reluctantly are two words that doesn't fit Carlos Strandberg vocabulary. He is like a speeding tank that will run straight over the defender if you show signs of not being fully prepared.
I believe his mentor is the biggest reason why we have seen a huge improvement for Strandberg these last two years. El`Kabir came in at the right time you could say and it says a lot about the character of Kabir who takes on the job without any hesitation. Kabir knows how to time his runs making him playable in and outside the box. Positioning has been Strandberg a area were improvement were needed and for me it seems that he has learned very quickly. He is good at getting into position and he is also able to read the game better allowing him to play his teammates through when the chance is there.
Calmness when finishing is something I see in training he still can improve. Often he hits the ball with power, shoots well with both feet may I add, but I would like him to adjust his power on the ball. In some areas it would be wiser to curl the ball into the top corner rather than going for pure honest power. I am sure Kabir will teach Strandberg a few more things before his departure for bigger adventures this summer (or after the season?). Strandberg is ready to play in the starting lineup when he gets his chance, as was the case in the Under-17 World Cup.