JORES OKORE – FC NORDSJÆLLAND
"Extremely talented young player with the abilities of outmuscling even Zlatan Ibrahimovic".
Jores Okore is a player I`ve watch since his debut for FC Nordsjælland. The progression he`s had has just been enormous. During 2012 he`s entered the frame for Denmark national team and he looks certain to remain as a regular within the squad in the future. The former captain for his youth team is now a natural leader for his first team. When you sum all this up you realize what sort of a special boy we`re talking about. And let's not forget that he still is only 20 years old.
With the departure of his central defender partner, Andreas Bjelland to Twente, it was always going to put extra pressure on Jores Okore. Instead of learning the grades, step by step, he needed to take major steps to become the leader that was required after the departure of Bjelland. Jores Okore has responded in great fashion.  He has guided his teammates to some great performances in the home league as well as in the Champions League.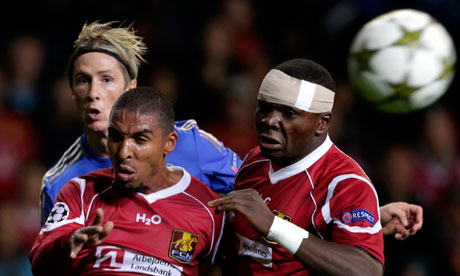 I was surprised to see no clubs making a firm bid for him during the summer 2012 – as he was available for a fair prize back then. I reckon those clubs, who hesitated, will sack one or two of their scouts for poor scouting work. The prize for allowing Jores Okore to stay on in the Danish league literally means that the same clubs have no chance of landing the player during 2013. Jores Okore is going to play with the big boys when he decides to leave Denmark. The prize for his services has obviously gone up sincethe summer, but it is little money for the big spenders nowadays.
For me personally I was pleased to see him stay in Denmark – still if it is just for a little while. The thrill and excitement of watching him up against the best players in the Champions league was the  reason. How would he handle the pace and strength of Fernando Torres? How would he defend against the passing skills of Andrea Pirlo? Those questions would obviously have been unanswered if he had left during the summer of 2012.
I have written a lot about his skills earlier. His strength and pace is two of his major qualities. His passing skills and ball control has been a minor issue earlier. Possession football, as FC Nordsjælland plays, requires those two skills to the fully.  This area is what I would single out as where he`s taken most positive steps into the right direction. When Jores Okore is picking up the ball from his own keeper, which happens all the time, I see a defender who is calm and not hasty into making any rash decisions. When his opponents are trying to close him down early, happened often versus Chelsea and Juventus, he simply plays the ball back before getting himself into a better position where he can receive the ball again. He can pass the ball with his first touch or he can storm forward if he sees a gap he can take advantage from. His understanding and reading of the game is another area where he has improved. The matches in the Champions league have given Okore a reminder of what is required at such level. While he at some early stages in the tournament has struggled, he is the sort of a player who immediately learns from his past mistakes. This is why he nearly never plays a poor match for FC Nordsjælland. It is also why he was the man of the match against Chelsea in Parken and gave in a solid display against Juventus.
I would like to single out two different incidents involving Jores Okore against Chelsea and Juventus. It gives you a strong indication of what he is capable of.
–          When Chelsea was visiting Denmark they came with a strong lineup. Victor Moses is a player I`ve followed since he played for Crystal Palace before he moved on to Wigan Athletic in England. Great player with muscles and great pace. During the match he received the ball from the back, around the half way line, and he immediately advanced forward with great pace. FC Nordsjælland was unbalanced and Jores Okore was behind Moses when the race was on. I`ve seen Moses do the same thing in the Premier Leauge, advancing forward using his strength and pace and just taking the mick out of defenders who can`t keep up with him. Well, Jores Okore didn't need many meters before he had caught up with Victor Moses. I sat close by and saw the shock/frustration from Moses when Okore made the challenge and cleanly took the ball away from Moses.  
–          When Juventus came to Denmark they also fielded a strong lineup. The incident I want to highlight is an incident where Okore read the game perfectly and used his strength to outmaneuver Mirko Vučinić. Okore got the better out of him inside the box during the final minutes of the game. Having read the game perfectly he did something unusual for many defenders at even such level. Instead of clearing the ball into safety, Okore were arrogant enough to bring the ball forward with Vučinić chasing him. But it was always a lost cause as Okore seemed to be just playing with him. When Vučinić got close to him, Okore runs with the ball inside the field, just in front of the striker. It gave Vucenovic two options: commit a foul as he can`t get near the ball without bringing Okore down, or he can allow Okore to storm forward. The Montenegrin accepts his faith and lets him storm forward.
Since I first saw Jore Okore I`ve been an admirer of him. I have never hided that fact. For me he is the most excited central defender playing in Scandinavia nowadays. I could have written more about his weaknesses, like the situation where Vučinić scored. Okore were the player who was marking him, but the whole point is the total picture. Those clubs, who need extended information, more detailed scouting reports, are welcomed to contact me personally.
Those clubs that can bring him in, and play him regularly, will have done a bargain in terms of quality. The prize however is something I will not comment on. I discover talents – money related issues I`ll leave up to other experts.  
Scouting report on Jores Okore written on 01.11.2012
Øyvind Christoffer Johansen
Chief scout, Scandinavian Scouting Agency