This category will keep your club up to date on some of the most exciting young players in Scandinavia. It gives your club an indication on which players to have an extra focus when scouting on hot prospects in this region. The players will be judged on several criteria's such as; talent, potential, how they perform etc. New players will be added on a monthly basis.
The team at Scandinavian scouting agency will only publish a short version on the website. For clubs who wants the extended version with scouting reports on individual players could get in touch with us through the contact page.
"Exciting midfielder with passing abilities in the same class as Molde`s Magnus Wolf Eikrem and Tromsø IL Ruben Yttergård Jenssen"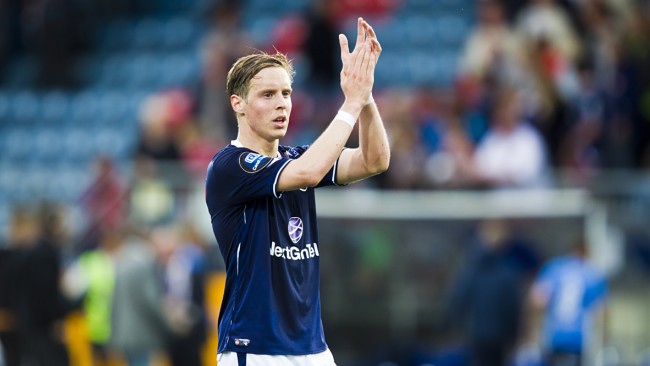 | Name | Stefan Johansen |
| --- | --- |
| Date of birth | 08/01-1991 |
| Nationality | Norwegian |
| Club | Strömsgodset |
| Height | 182 Centimeter |
| Shirt | 8 |
| Position | Central midfielder |
Coming from a small village of Vardø, a place so far up north that you would be surprised that they play football there on a regular basis. The town itself, Vardø, is more famously known for their snowball festival, but they can now brag about producing one of the finest talents playing in the Norwegian league nowadays.
Stefan Johansen is featuring for the Norwegian under-21 squad on a regular basis, but he`s having a hard time getting in the starting lineup. Clubs might see this as a weakness, but I rather say that it is duly because he`s playing for the top-4 national team in Europe 2012. He`s being kept out of the team by Håvard Nordtveit, who is a regular in the Bundesliga and also features for Norway`s senior national team. The Norwegians famously beat France to qualify for the 2013 European Under-21 Championship in Israel 2013. I will not be surprised if the team goes all the way to the final.
The 2012-season has been a breakthrough season for Stefan Johansen. He has been highly appreciated by Strømsgodset since his arrival prior to the 2011 season, but he was not consider as a regular starter before the season. In his ideal position there was another player who were running the show; Mohammed Abu. But the Manchester City loaner was called back to the English club which gave Johansen more chances to play as a regular. He didn`t need many matches to prove that he was worthy a chance as a starting player.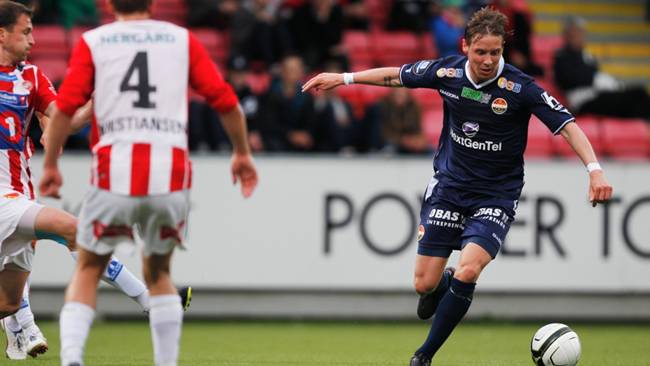 Before the 2012-season Johansen improved his fitness and did a lot of exercise in studying natural role models on the pitch. Taken such tasks is obviously something every player will take seriously, but I don`t think many study them as precisely as the perfectionist; Stefan Johansen. He has adapted into the central midfielder role at Strømsgodset exceptionally well. With confidence and commitment he has led his troops to just narrowly missing out in the title race. For a team competing on the other end of the scale, regarding finances, they never stood back from high spenders such as Molde FK and Rosenborg.
The work he has put in this year has given him a place in almost every "Team of the Season" in the media. Johansen`s left foot is, as stated above, of the highest standard. This combined with excellent ball control allows him to fully take advantage of his passing skills. His passing accuracy is amongst the best in the league, if not the best. It allows him to play his teammates good and be the architect in the buildup play. His accuracy is deadly important in the way Strømsgodset play; offensive full backs always on the run forward. If it`s a gap in the opponent's defense you could be sure that Johansen will be able to take advantage of it.
His left foot is also an offensive threat which several teams have experienced these last two seasons. From set pieces you can bet that he will try and curle it precisely over the wall to find the back off the net. When in play he will also not hesitate to hit the ball with power when getting into shooting distance. He has scored some stunning goals already these last two years, but he is capable of scoring more.
Stefan Johansen is still only 21 years old so he obviously has areas where he can improve as a player. His physical appearance is something he can improve as well as improving his actions in the defensive areas. His focus is at Strømsgodset and he wants to win the title with them next year. After one fantastic season he isn`t talking about moving to a bigger club. He`s happy where he is. Money is not the most important thing in his career for the time being. That shows character – actually great character that shouldn`t be underestimated. Hopefully this is something more players will learn in the future.
Stefan Johansen is going places. Such ball possession players aren't something Norway is producing on a regular basis. However, when we produce them it is pleasantly to know that they are committed and willing to learn on home turf, learning the grades here, before moving to bigger clubs. Johansen`s time will come and he knows just that.
Scouting report on Stefan Johansen written on 23.12.2012
Øyvind Christoffer Johansen
Chief scout, Scandinavian Scouting Agency