The team at Scandinavian scouting agency will only publish a short version on the website. For clubs who wants the extended version with scouting reports on individual players could get in touch with us through the contact page.
"One of the finest products from Scandinavia is ready for the big leagues in 2013"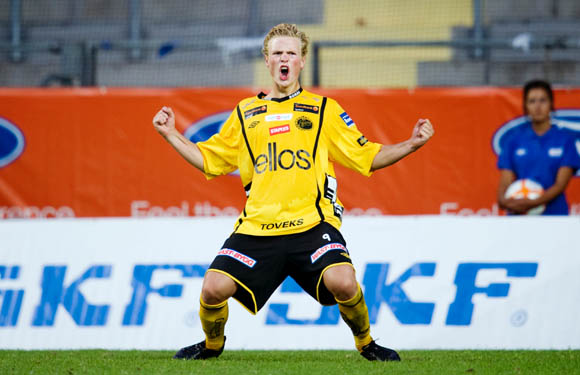 ……………………………………………………………………………………………………………………
Name                                                                                                                  Oscar Hiljemark
……………………………………………………………………………………………………………………
Birth                                                                                                                               28/6-1992
……………………………………………………………………………………………………………………
Nationality                                                                                                                     Swedish
……………………………………………………………………………………………………………………
Club                                                                                                                                      Elfsborg
……………………………………………………………………………………………………………………
Height                                                                                                                  184 centimeter
……………………………………………………………………………………………………………………
Shirt                                                                                                                                                 14
……………………………………………………………………………………………………………………
Position                                                                                                         Central midfielder
……………………………………………………………………………………………………………………
Words about Oscar Hiljemark:
The young midfielder has figured on this website for quite some time now. A personal favorite since the first time I saw him in action. I always expected the youngster to take a few more steps as a player during the 2012-season and Hiljemark hasn`t let anyone down. Guiding his side to the league title in Sweden shows what sort of a player he is.
His performance for the national team wasn't given much appraisal last year. Still his impact on the pitch impressed me. So-called experts didn't share my opinion as they felt that the opponent sides were of a poor quality. They simply couldn't judge his potential against such opponents. Nevertheless, in this line of work you are always going to meet people who have a different opinion than yourself. In some obscure way that is what separates the good scouts from the best ones.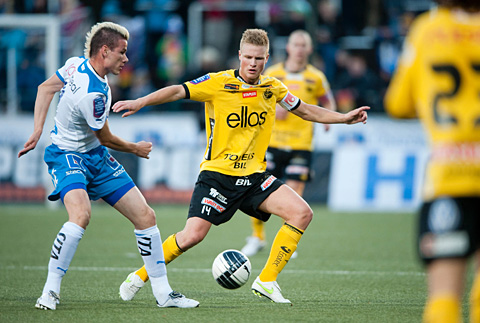 Oscar Hiljemark is a central midfielder who still is only 20 years old. When you see him on the pitch you wouldn't believe it. His appearance on the pitch makes you think that he`s been in the game for many years. He hasn`t, but that is all down to Hiljemark himself along with the guidance of his mentor/and central midfield partner Anders Svensson. They have formed the best midfield duo in Sweden this season without a doubt.
His approach on the training field is something he brings with him on match days. His determination of always improving is something that has been vital in his development as a player.
His main quality as a player is his passing ability. It doesn't matter if it`s a short pass or a long pass as he is just as comfortable in doing both. Hiljemark is a true midfield maestro who takes responsibilities in defense and in the offensive side of play.  He is able to take advantage of his passing skills due to his calmness and his great vision. He`s clever in the sense that he`s always seem to pick the right decision. If he`s first option for a pass to his striker is covered by the defender, he doesn't hesitate and can simply turn around and go for option 2 or option 3. If he gets into shooting range you could be sure that he will have a go himself with his blessed right foot.
I was expecting Oscar Hiljemark to get on the score sheet around six times this season. He ended up scoring two goals which of course isn`t good enough. With the shooting power Hiljemark possesses I believe it`s only a matter of time before we see some stunning goals from him on a more regular basis.
On the plus side we can`t forget that he is a player who plays his teammates better. He got some great assists during the 2012-season, but with better finishing from his teammatas the tally would have been better.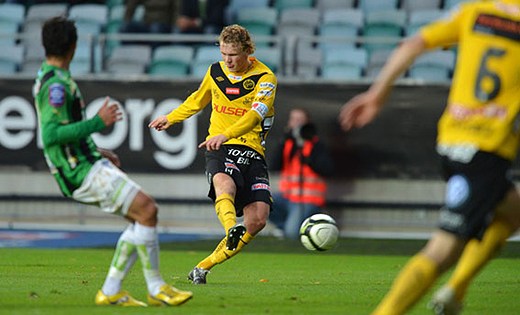 At the age of 18 he became the captain for the Sweden Under-21 national team which tells you a few things about his leadership. He is the same leader on and off the pitch for the best side in Sweden. I expect him to move this January to one of the big leagues. He is capable of performing at the highest level, but it will be wise for him to move to a club where he will get regular playing time. I am confident that he will follow in the same footsteps as for example Rasmus Elm and Kim Källström. Elm and Källström performances in Netherland/France earned them a move to the Russian capital where they have impressed from the first minute.
I expect great things from Hiljemark. The only question that is yet to be asked: Oscar Hiljemark au football français en Janvier? It would suit him and the league well.
Scouting report on Oscar Hiljemark written on 02.01.2013
Øyvind Christoffer Johansen
Chief scout, Scandinavian Scouting Agency