Back in 2007 www.scan-scout.com scouted only on senior players playing in the Norwegian leagues. At youth level we gave information on players from all over Scandinavia.
Scouting reports were shorter than the ones that are published nowadays, but it is interesting to look back in the archive finding out if my personal predictions where right.
With Tore Reginiussen we have a player who has been through a lot as a player. He has moved to different clubs in different countries, experienced several injury set-backs at such important time in his career – before getting his career back on track at Rosenborg.
The report on Tore Reginiussen is over 6 years old. Enjoy reading it!
Scouting report: Tore Reginiussen, Tromsø IL
The former Alta player will continue to impress supporters and managers for years to come.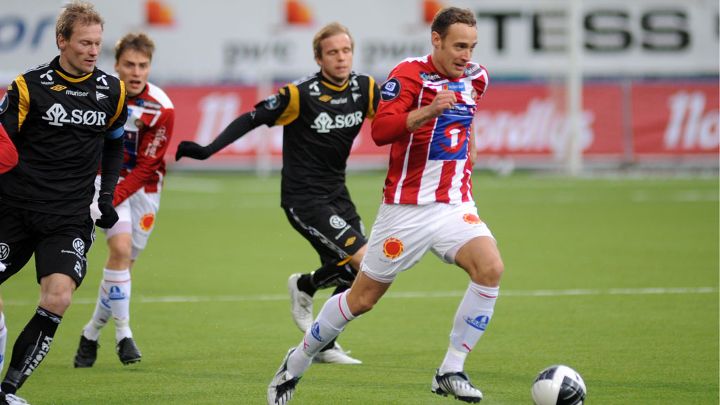 As important as Norwegian centre-back legend Rune Bratseth was for German giants Werder Bremen, I believe Tore Reginiussen can be for his next club. With only 2 years left of his contract with his current Tippeliga-side Tromsø IL he is likely to be sold after this season.
I first spotted Tore Reginiussen when he played for Alta at the age of 16. I had heard some rumours regarding a talented central defender so I went to the match with high hopes. Only 16, but still a very important player for his team, Tore was sent off after only 25 minutes in an entertaining 4-4 match. The professional foul was quite clearly a correct decision but I had already made up my mind despite his rather brief stay on the pitch; this was a player with a playing potential that I had not seen for a long time.
He came to Tromsø IL before the 2005/2006 season for £100.000 and became a first team player instantly. Some of the reason might have been down to his ability to handle several positions such as central midfielder, right back and of course his natural and preferred position as a central defender.
Supporters were convinced straight away and he quickly became a fans favorite thanks to his brave and enthusiastic approach to the game. This is a player that will give 110%, and nothing less, in every match – in every challenge. Sometimes he might benefit by standing up and occupying the striker rather than sliding in, but in all fairness, Tore doesn't get booked very often or gets a lot of free kicks against him.
His positioning I would say is his biggest advantage along with his ability to read the game quickly. He is good with the ball and when he breaks the opponents attack he loves to drive forward often providing great chances for counter-attacks.
He's got pace to handle almost any striker, and if pace does become a problem the Alta-born talent more than often can rely on his ability to read the game – making it look almost too easy. Strong in the air, very good one on one, consistency and loyalty makes him a player that is every manager's dream.
Tore Reginiussen is a natural leader on and off the field and he has been awarded the captain's armband for the Norwegian under-21 side. I have to admit that I am surprised that he still hasn't got any matches for the senior national side. If he had been playing for a bigger club I am sure the story would be different, but it's only a question of time Tore can position him alongside Brede Hangeland for that second centre-back spot in Åge Hareide's national side.
Time will show, but I have no doubt that Tore Reginiussen will be impressing supporters and managers for years to come. The only question is which club will land his signature.
Scouting report on Tore Reginiussen written by Chief scout Øyvind Christoffer Johansen.