In five years time Stefan Strandberg has developed from being an important pawn in a chess game into a rock solid rook. The future seems ever so bright for the talented footballer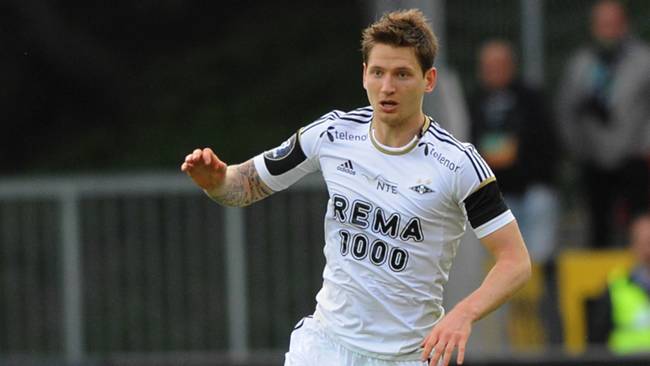 | Name | Stefan Strandberg |
| --- | --- |
| Date of birth | 25/07-1990 |
| Nationality | Norwegian |
| Club | Rosenborg |
| Height | 189 Centimeter |
| Shirt | 24 |
| Position | Central defender |
When I summarize my predictions on player's abilities it is often central defenders I am usually spot on about. Maybe it has something to do with my earlier role as a central defender during my playing days. I am not sure, but something is clearly helping me to understand what is needed to succeed at the highest level.
The player has been a personal favorite for quite some time now. The first time I saw him in action was when I lived in Kristiansand several years ago. Strandberg was only 16/17 years old, but already a key player for his local team Mandalskameratene.
The reason why I studied him intensely during this period was because a Norwegian top club was looking to strengthen their defense. I remember texting their sport director: "only 16/17 year old, but already good enough to make an impact at the highest level".
Stefan Strandberg didn't get his deserved attention from any others than me during this period – what a shame when I think about it. Vålerenga signed the player later on and Strandberg quickly established himself as a first team regular. He made the step to Rosenborg in 2012 and I reassured their fans that he was more than capable of cementing a place in the starting eleven immediately.
His dominant performances for the national team obviously caught the eye of foreign clubs and it is of course well deserved as Strandberg was one of the best players in the recent European Under-21 Championship in Israel. He fully showed his all-round abilities and organized his back four with confidence. He was rarely caught out of position and when he came under pressure he was mature in the way he was biding his time before making the challenge, so often winning the ball. When his teammates were out of position he committed fouls in sensible areas, without getting booked, allowing his teammates to get back into position. His ball control is generally very good and combined with his calmness this allows him to make wise and sensible decisions – even under intense pressure.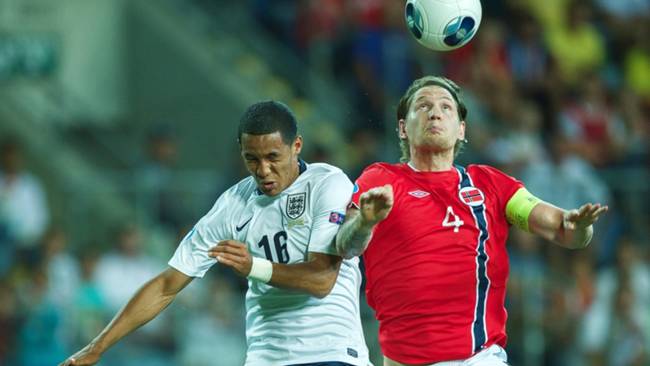 Even if he lacks pace his reading of the game, all over the pitch really, helps him outmaneuver even the smartest attackers. On a rare occasion in Israel he made a crucial mistake that had the worst possible outcome.  It came against Spain in the semi-final when Morata got the better out of him. Strandberg tried to be clever when he tried to close down a through ball high up the field. When the ball got past Strandberg he was never really able to catch up with the talented Spanish striker. The head start he got made you see Strandbergs` weak area as a player to the fully.
Last year I spoke to a well-known director for a Norwegian football team. We were discussing potential new signings and I was eager to find out if they had found my recent recommendations of any interest. The answer literally shocked me as he said, "in modern football all footballers must have very good pace". I replied: "to some extent I agree, especially when you consider your own team formation and strengths/weaknesses. And in certain positions there is an obvious advantage in having pace within the team." The director didn't agree with me by ending the discussion saying, "to gain success in modern football you will have to have great amount of pace in every position". So my recommendation was of no interest, as none of them had the pace required. It was funny to see bigger clubs signing the same players a few months later.
So we had a disagreement – who was right and who was wrong? This director controls much of the transfer policy at the club and if he has these sets of requirements – he will most defiantly miss out on several top players. Who will pay the price for misjudging a players true potential? Clearly the football supporters will suffer, those who pay a fortune to watch football in Norway. The product the fans pay for doesn't give value back for the money. Something has to change for things to get better.
Strandberg lacks pace, but makes up for it in so many other departments. He proved his defensive qualities to the fully in Israel against the best sides in Europe. He was dominant in the air, got into the attackers with great timing and wasn't afraid of using his strength to outmaneuver the strikers. His reading of the game just gets better and better and as the Under-21 Championsship went on he grew on every performance. With the defense under control you could see that the Norwegians offensive players could relax more and get their own game plan going. With a bit more luck they would have met Spain in the final, but nevertheless it was a heroic tournament of the Norwegians who ended up at third place. Football doesn't get any better than when smaller nations surprise a whole world with fine displays.
Stefan Strandberg showed leader skills that surely got the attention from bigger clubs who are looking to strengthen their defense. The lack of lack of quality in the Norwegian league has not exactly been helpful in exporting talented players abroad these last years. However, a footballer like Strandberg doesn't need a good tournament for the national team in order to convince others about his potential – it's already there. Strandberg will have no problem playing for one of the bigger clubs in Belgium/Netherland for example. With the right club at a higher level he will hopefully be ready for one of the bigger leagues in the future.
He is clearly one of the best, if not the best, central defender in the Norwegian league at the moment. Even if the influential director has a different opinion, Strandberg will continue developing into a top player – because he must be doing something right – even without that so called "deadly" important pace.
Scouting report on Stefan Strandberg written on 03.08.2013.
Written and approved by Øyvind Christoffer Johansen, Chief scout.