This category will keep your club up to date on the best players in Scandinavia. The players will be judged on several criteria's such as; talent, potential, how they perform, transfer value, contract status etc. The list of players will be updated on a monthly basis. TOP 5 – Senior recommendations in Scandinavia
The players who has got their own scouting report will not feature in the Top 5-list anymore. An example of this is the Dame N`Doye-report which you can read at: http://www.scan-scout.com/2012/03/06/dame-ndoye-fc-copenhagen/
The list was last updated on 09.03.2013.
1. Claudemir de Souza, FC Copenhagen – Central midfielder
It was Claudemir sensational pass to Dame N`Doye which put FC Copenhagen through to the Champions League back in 2010. It was the Brazilian himself who scored the great equalizer against the team who ended up winning the tournement; FC Barcelona. The Brazilian midfielder played some stunning football that year. Having previously played, and done well, for Vitesse in Netherland, it came as no surprise to the Danish supporters that he was capable of cementing a starting role so soon after his arrival to Denmark.
Last season we saw FC Copenhagen missing out in the title race, and while Claudemir gave in some impressive performances every now and then, he still wasn`t playing as good as he did back in 2010. The whole team in general lacked that extra spark. Player sales have got to take some of the blame for the failure, but this season the team has been rock solid and consistent the whole year.
Claudemir has looked more settled and more like the player we got to know in 2010. His vision, passing skills and his running capacity is some of the key ingredients in his game. In the Champions League we got to see his qualities to the fully. The way he is able of taking advantage of his running capacity, in defense and offensive play,  is some of the most impressive things when I watch him. He gets awarded sometimes, like he did when he scored the winning goal against OB Odense a week ago.
Consistent performances will lead to his departure to a bigger league. I feel that he is capable of playing for the top teams in Netherland, but the club that will win the race for his signature will have to match his ambition as a player. After playing, and winning titles, for the Scandinavian giant the player is craving after adding more silverware to his collection. His winning mentality is second to none – therefore it`s important that his new club share his same ambitions.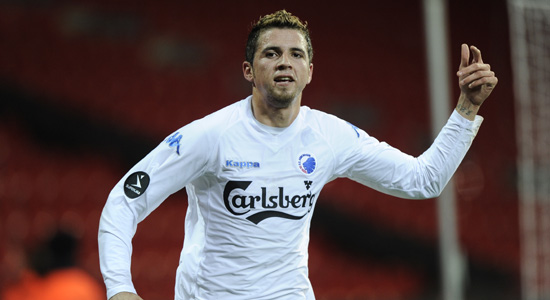 2. Niklas Hult, Elfsborg – Left winger
Not surprisingly his team top performer last season. A player with great pace who always is on the run trying to get himself into scoring positions/or crossing opportunities. That's the thing with Niklas Hult, he is always looking for the gap in the opponents side and isn`t afraid of dribble past and take advantage of his enormous pace. The fastest player in the Scandinavian leagues shouldn`t be too far away from the truth.
Niklas Hult got injured at the end of last season which ruined his chance of being sold last transfer window. It now seems that he has recovered well and will probably be ready for the season opener soon. Hult is a player who has got the ability to use his qualities to the fully in a bigger leagues. I am sure that clubs in Netherland are monitoring his situation closely, but I wouldn`t be surprise if there is interest from other countries.
Niklas Hult has played regularly with the Sweden under-21 team and has been solid there. If everything goes as planned then this is a player we will see more frequently at the highest level. If he can stay fit and play during the next months I would not be surprise if he moves on during the summer of 2013.
3. Borek Dockal, Rosenborg – Midfielder
Before the EURO U-21 in 2011 not many people had heard of his name. After the tournament in Denmark everyone spoke highly about him. It was some well deserved praise for the young player as he played some great football for his country. Czech Republic ended up at 4th place in the tournament.
The captain for his side soon got attention from bigger clubs.  After speaking to a few scouts after the tournament my initial thought was that he was signing big club in Europe. Rosenborg reacted were others hesitated. The 1 million euros they spent on the player is surely one of the best buys in Scandinavia recent years. The signing was a hint of ambition and good scouting work.
The impact he had from the start proved to any doubters, those moaning about "such" high transfer fee, that this was a player the team had missed since selling Marked Sapara a few years back. Capable of filling those shoes he did to the fully last season when he singlehanded put the Norwegian side through to Europa League group stage 2012. He ended up scoring over 20 goals last season which tells you what he is capable of.
What he lacks in pace he makes up for in other parts of the game. His repertoire as a midfielder is in that sense enormous. His right foot is dangerous both when getting into shooting distance, but also when looking for passing alternatives. One of the best passers in Scandinavian football is not far from the truth.
With Rosenborg playing a new 4-3-3 system it will be interesting to see how Dockal will adapt to the new style of play. I am confident that he will perform from the start as he is the sort of player who adapts so easily into new environments. If Rosenborg can match Borek Dockal ambition then we will see the former Scandinavian giant taking the Championship title back in 2013.
4. Saliou Ciss, Tromsø IL – Left back/central defender
I saw Ciss in action for his new club Tromsø IL just weeks after his arrival back in 2010. His performance was a disaster in that specific training match. He looked uncomfortable on the left side in defence, clearly struggling to understand the idea of how a perfect defence is organized. The management were just shaking their heads in disbelief, maybe even wondering why they had invested money in the player.
Even though he struggle in some important parts of the game he still got into every tackle with high intensity. He proved that he had stamina and pace to last full matches. But his problem was concentration and clearing his mind of what he was used to when playing as a defender in Senegal. This became a headache for the coaches.  During the start of his career in Norway he had to play in different positions, slowly allowing him to get used to the tactical bit.
Years have served the player good as he is now his team best player. When Bryan Oviedo (former FC Copenhagen) left for Everton in 2012 I quickly labelled S.Ciss as the best left-back in Scandinavia.
He has improved in all areas of the the game and was rewarded with a starting place for Senegal in the London Olympics 2012. He`s still only 22 years old and has a great future in front of him. His ability to fill in as a central defender is also on the plus side, although I prefer him on the left-back. His former teammate, Kara, left for football in Belgium in January 2013. I see Ciss as a player, more matured than Kara, which makes him more ready to move straight up to one of the bigger leagues. Not like Kara who clearly needed time at a level more comparable to Scandinavia.
5. Marvin Pouriè, Silkeborg – Striker
According to himself he`s the best striker in the Danish league. He could just as well have declared himself as the best in Scandinavia.  He is a firm believer in himself. It says a bit about his ego, but in fact he isn't far away from the truth.
His qualities as striker is something every team in Scandinavia would have wanted in their team, but his price tag makes it impossible for most clubs. Those (only one club?) who can afford him will be put off by his controversial style – both on and off the pitch. Ideally a top club in Scandinavia would have been his perfect next destination. His qualities on the pitch are however of a standard that will be appreciated also in the bigger leagues. Which team is capable of taming the German striker?
For those who don`t know him an explanation is needed. Remember yesterday when Arjen Robben stormed forward in attack vs Arsenal in stoppage time? He could have secured the victory for Bayern Munchen if he had gone to the corner flag in order to let the clock ticking. Getting the clock going when you desperately need it is crucial nowadays. Arjen Robben decided to follow his natural instinct and had a go himself at goal. He missed and Arsenal could, with a bit of luck, have won the game seconds later. It was a rooky mistake by Robben.
A similar situation occurred when Silkeborg were leading last year against AGF Århus. They badly needed the three points. Leading 2-3 and with only seconds left from the added time it all looked secured. When Marvin Pouriè got a chance up front – similar to Arjen Robben – he did just the same as the former Real Madrid and Chelsea player. Only difference was that the outcome was different than yesterday. His teammates and coach were furious. It was a rooky mistake by Pouriè.
His goal scoring record in Denmark is great. When you realize he`s playing for a side fighting for relegation it's even more impressive.
Pouriè has got good pace to threaten many defenders. His ability to combine his pace with his physical attributes makes him capable of taking fully advantage of his finishing skills. Playing for a better team Scandinavia will help him to be more prepared for the big leagues.  He`s obviously got areas he needs to improve, but even if he is an unfinished/unpolished product he still is one of the best strikers in Scandinavia.
I believe the young German will move straight to a bigger league, maybe as soon as this upcoming summer. You never know what you will get with him on board – maybe one of the biggest reason why I am such an admirer of him.