This category will keep your club up to date on some of the most exciting young players in Scandinavia. It gives your club an indication on which players to have an extra focus when scouting on hot prospects in this region. The players will be judged on several criteria's such as; talent, potential, how they perform etc. New players will be added on a monthly basis.
The team at Scandinavian scouting agency will only publish a short version on the website. For clubs who wants the extended version with scouting reports on individual players could get in touch with us through the contact page.
"It`s time for Papa Ndiaye to shine at the highest level in Norway – and it`s time for bigger clubs to understand the level he is capable of operating at"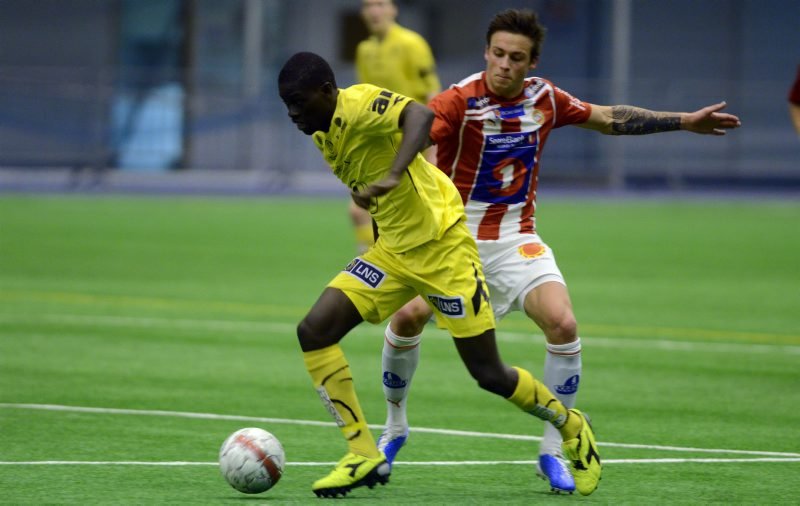 | | |
| --- | --- |
| Date of birth | 27/10.1990 |
| Nationality | Senegal |
| Club | Bodø Glimt |
| Height | 179 Centimeter |
| Weight | 75 kg |
| Shirt | 7 |
| Position | Central midfielder |
I hear people speaking with a familiar dialect. It's windy and cold outside. I start daydreaming that it's like home. Suddenly a military aircraft model F-16 flies just over my head. The intense noise wakes me up and I realize that I am in Bodø. It's not like home; it's the complete opposite.
Still, I am here to do a job and I feel confident that Papa Ndiaye will make the trip worthwhile.
Ndiaye has played an instrumental role this season in helping his club getting promoted. I cannot hide the fact that I have been an admirer of the player for quite some time. His performances have made me personally recommend him to one of the best teams in Denmark a while ago. The consequence of not signing the Senegalese in 2013 will mean that Scandinavian clubs will struggle to do so next year.
First of all, lets agree on the fact that the second tier in Norwegian football could be better in terms of quality. This needs to be taking into consideration when reading the information below. But still, even at this level there are hidden gems to be found.
Bodø Glimt is for me the only exception in the league to stand out as team. In my mind the club is already good enough for the top division and they will have absolutely no problem staying well clear out of the relegation zone next season.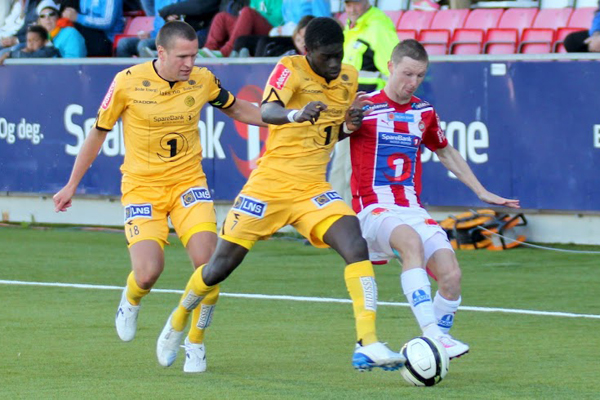 The first time I saw Papa Ndiaye live in action was back in 2012 when his team played "local" rival Tromsø IL in the Norwegian cup. He was up against the, at the time, best midfield duo in the Norwegian league in: Ruben Yttergård Jenssen and Serigne Modou Kara Mbodj. Ndiaye played in the middle of the park in their familiar 4-3-3 formation – laying a bit deep with clear defensive responsibilities.
Papa Ndiaye showed quick feet and seemed comfortable on the ball in most areas when receiving it. Although he lost the ball a few times he didn't seem too stressed with the high pressure from the opposition. He wanted the ball, even after these mistakes, on every occasion and seemed to always have a plan when receiving the ball.
I was convinced straight away that this player belonged at a higher level. The few errors he made were sort of expected from my side. He had never played such opponent before and he wasn't used to this kind of tempo in the game.
Facing Kara Mbodj in midfield you will need to be fully prepared otherwise you will literally be hammered by the strength of the big African.  Even if Ndiaye was severely outmuscled by opponent Kara, he didn't by any means avoid confrontation from his fellow countryman. He was clever the way he used his strength, quick feet and clever timing by getting the ball before Kara could react. This led more than once to some frustration from Kara who couldn't keep up with the pace of Ndiaye.
Papa Ndiaye`s passing were generally good as said, some times too clever, but not something you couldn't fix with an extra bit of training. Kara on the other hand had played at the highest level in Norway for years and still couldn't improve to satisfy my demands as a scout.
When I saw Kara for the first time, against Alta in 2010, I described the player as a lighter version of John Obi Mikel. Kara brought more muscle and power into the game, but he never had the passing abilities as the Chelsea player. In 3 years time Kara didn't improve enough on his passing so he had no other option than taking the middle step up to the Belgium League. When you consider all the top clubs that was linked Kara it must have been a huge disappointment  for him personally to end up at KRC Genk.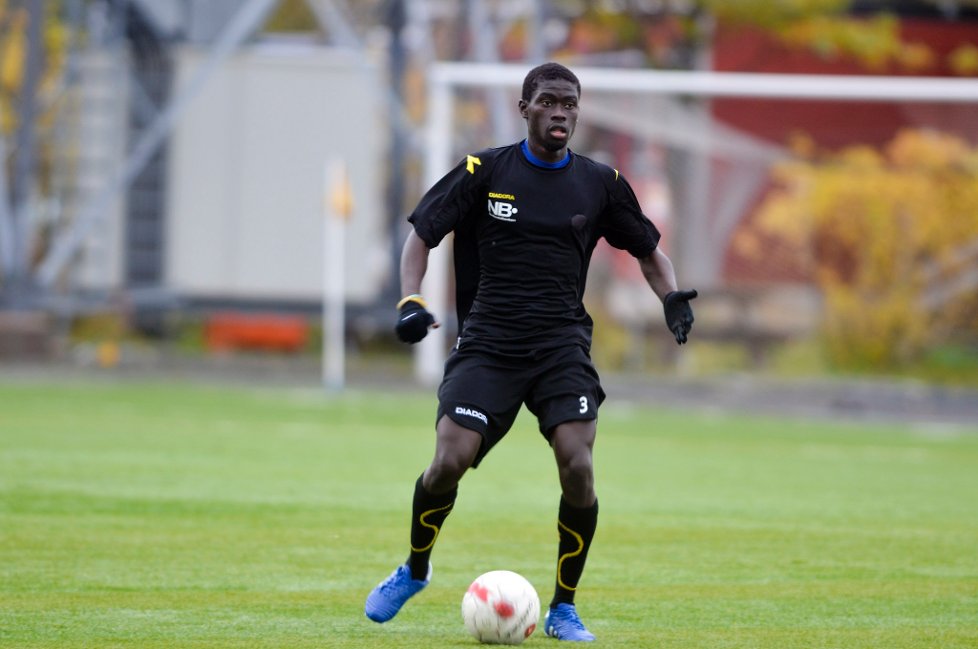 I have said it many times, in Norway Kara didn't get punished enough for his errors in midfield, but in the bigger leagues he would soon prove to be a weak link. KRC Genk obviously knew this so they started playing him as a central defender – a position where he could adapt and be a dominant presence by using his muscles and power. Given time I do think he will adapt and mature as player, allowing him to fill in as a midfielder in the future. In Norway his attitude became a problem, but in Belgium he will need time to get the same reputation (as a quality player). During this time I am convince that he will mature as a player and be a team player.
So what has this to do with Ndiaye? Papa Ndiaye belongs in midfield and that's it.  What Ndiaye proved to me in the cup match is that he can adjust to the tempo that is required at a higher level in such short time. I don't think he needs the same time as Kara to fulfill his potential at the highest level in Norway.
In 2012 Papa Ndiaye played as a midfielder with more defensive responsibility than what we have seen this year. In his new more offensive role he has been a revelation and developed into being a goal scorer as well as a player that does brilliantly when helping out his defense. His engine is the best in the league and he usually last 90 minutes, which gives him obvious advantages. When you add his great pace you start realising in what capacity he can operate at – even in the bigger leagues.
His running capacity and the amount of pace he possesses allows him to use his strength in defense before being the architect in the build up play for a counterattack. If he sees a gap in the opponent's midfield he doesn't think twice about using that space into his own advantage. His pace and ball control makes it seems easy when he dribbles past one or two players on his way forward.
I get the sense that Ndiaye is so comfortable on his team formation that he can pass the ball through to his attackers with precession even blind folded. In most matches I`ve seen he`s passed the ball the to his wingers before storming forward waiting for his chance to receive it. If he doesn't have any passing alternatives he doesn`t mind using his technique to get past one or two defenders. Some times I`ve seen his moves being a bit to obvious which has made him too easy to read. This has happened especially when he has gotten to much time on the ball. In tighter situation I see Ndiaye more aware of the threat around him – making him pass the ball with better precision to his teammates.
I must point out the fact that he during 2013 plays with too much risk when passing the ball around in midfield. At the current level he is operating at it will not be seen as risky play. At a higher level he will get punished, but Papa Ndiaye is the player that will learn fast from his errors.
His shooting technique is of a high standard as he hits the ball with power and with good direction. Some of his goals this season gives a clear indication of the threat he poses. My advice for all players who are gifted with a powerful shot is to use it. Ndiaye is a player I don't have give the same advice to as he have a pop at goal whenever he gets the chance. Bless him for that.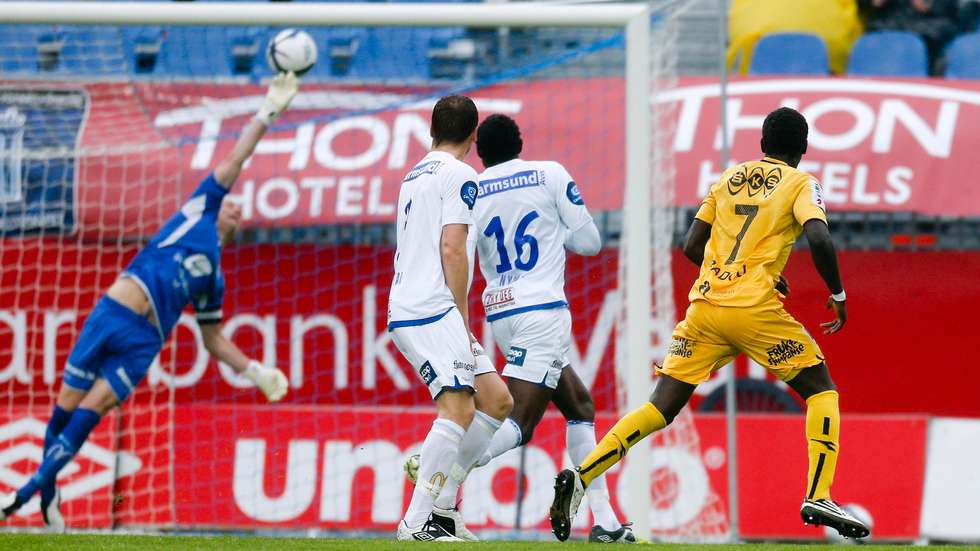 By allowing Ndiaye to operate more in the attacking play he is given the possibility to exploit his offensive qualities to the fully.  The way he uses his movement in offensive areas is impressive. He wants the ball all the time and his teammates are aware of it and play him as often as they can. They know he is comfortable playing the ball on his first touch and understands his next move – often being him wanting the ball back in his feet or that he goes on the run forward.
Even in tight situations, when he is man-marked, his movement quickly creates space enough for him to receive the ball with no opposition able to mark him. With the ball in his feet he does the same, it doesn't matter if it`s in the defense or in the offensive play. It seems so easy for bystanders, and for him I think it is. The calmness that Ndiaye and teammate Sane introduce to Norwegian football is necessary and a beauty to watch.
When he goes on a run forward he his clever by completing his runs. If he doesn't receive the ball he know that he opens up the defense – allowing his teammates to take advantage of the room left to exploit. It seems like Ndiaye understands this perfectly as he doesn't, in those matches I have seen, complain to his teammates when not getting the pass. He has kept his mouth shut understanding his role and influence on the team.
Having that said, when Ndiaye wants the ball he usually gets it. After receiving it he is as comfortable on the ball as you want if you were his teammate playing next to him. He doesn't mind playing short passes to his teammates, often to his Senegalese friend, and great player may I add, Vieux Yakha Sanè. The linkup between these two have been great the entire season. They have their own set of way of adjusting the tempo of the game into their own advantage. I believe the understanding between the two of them has been a key factor in Bodø Glimt`s phenomenal season. It has had a positive domino effect on the rest of their teammates for sure.
At the second tier in Norway you get more time on the ball. The average teams at this level are of a standard were players like Ndiaye will be given the time they need to dominate and do as they like on the pitch. Still, it is the way he shifts the momentum and builds himself up for the bigger occasions that separates him from others.
An example is when he played against Tromsø IL in 2012. He came prepared against an opposition who at the time were one of the best in Norwegian football. He didn't have the best of games, but you could see what sort of talent that was hidden in the player.
Playing next year in the Norwegian top league will mean that he will have to adjust quickly in order to eliminate his unnecessary ball losses and untidy displays he has shown this season. These mistakes will not hinder him from being one of the best midfielders next season, but it will cause some upset from clubs who cannot afford such mistakes at a higher level. Given time I am confident that he will convince other clubs outside this region that he can adjust to a much higher level.
I am big fan of the player. He can operate and do a great job in defense, but his engine allows him to also take advantage of his offensive abilities. That pleases me, but more importantly it makes a difference for his teammates who gets extra time and space because of his qualities.
It`s time for Papa Ndiaye to shine at the highest level in Norway – and it`s time for bigger clubs outside Scandinavia to understand the level he is capable of operating at.
Written and approved by Chief scout Øyvind Christoffer Johansen on 19.10.2013.