This category is something that we are very excited about launching. In here players will be added along with a scouting report. The players that will enter this list are players that hasn't made it to any of the top lists. If their name is published here it's a clear indication that the player has got the ability of playing at a higher level. Those who fall into such category could be at an early stage in their career. It could also be an established player who we feel should be given a chance at a higher level. In short, this category is the guideline for clubs on which players they should take a closer look at.
The young Norwegian, born and bred in Tromsø, has gone through the ranks for his local club. Now he is his team most consistent performer and one of the main reasons why the club have done so well these last seasons.
He made his debut at the age of 17 and he were patient waiting for his chance to shine on a regular basis. It also took some time before his manager realized that they were dealing with a talented central midfielder – not a winger. In 2008 he established himself as first team regular and since then his career has flourished and he hasn't really looked back since then.
Being a central midfielder his biggest talent is his passing ability. His vision and orientation of the game – combined with an outstanding left-foot- are some qualities that really stands out when comparing him to other players in Norway. If you add the fact that we`re dealing with a player with a hunger and desire to receive the ball at all times, one might realize that we`re dealing with an unorthodox player compared to other Norwegians. One could actually wonder if this is one of the reasons why he hasn't featured on a more regularly basis for his national team – he simply doesn't fit the typical Norwegian description of a central midfielder. I remember Mohammed Abdellaoue was not a regular for Norway not long time ago and I never understood why. The same thing applies to Ruben Yttergård Jenssen – he should be more involved on a regular basis.
So it's fair to say that he`s taking huge steps as a footballer this last two seasons. What have he done so rightly? First of all I have to point out that we are dealing with a player as professional as they come. Having watched him in training on a regularly basis and watched him play matches often, I feel that I am entitled to say so. In modern football you can`t nowadays take such a quality for granted.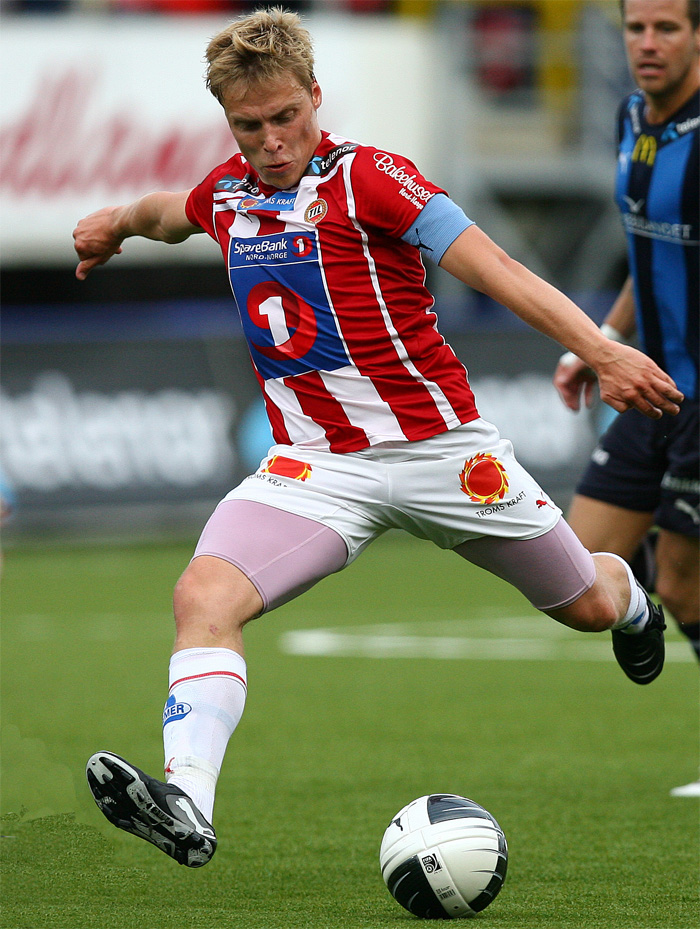 Having gone the grades at Tromsø IL and worked with different managers he`s picked up tips in areas of his game that needed improvement. And all credit to the managers – allowing him to play on and not changing him as a player. Same could be said about the consistency of the squad and the fact that he has learned a great deal from the more experience players at the club. And let`s not forget the well-organized formation at Tromsø IL, a system where the players trust everyone around them at all times. This is just a few factors, but the most essential ones that in my opinion made the player that we see today.
His passing has always been good, but at times he used to give the ball to easily away – especially when opponents tried to close him down early and high up in the field. With an aggressive pressure on him he at times way to easy lost the ball to opponents. At times he could be a bit too arrogant and slow with the ball in his feet, which eventually would see him loose the ball and often in dangerous areas. Now I feel that he has improved a lot in this area. It know seems that he has a plan before he receives the ball and he`s not stressed at all when opponents tries to close him down early. At times this could be heartbreaking for the supporters as they aren't/weren't used to such calmness in tight situations. This aggressive pressure doesn't seem to affect his game plan as it used to. He`s got a plan B for it and he doesn't hesitate those few seconds anymore- those seconds that are so crucial at such high level.
When receiving the ball he`s in no rush to pass the ball forward immediately. He takes his time in the buildup play, finding the right solutions when he`s sees them. But when he sees a gap in the opposition side then his strikers/midfielder can rely on his passing skills. When his passing options are limited he isn't afraid to dribble past the opponent – creating space on his own. You could say that his confidence and orientation skills have improved during these last years.
One of the reason why he weren't suitable for a role as wing-player was due to his lack of pace. But even in this area I`ve seen some improvement lately. He looks fitter and sharper than before, but what he still lacks in pace he makes up for with skills in those areas mention above. You see the same scenario with other midfielders, playing for top European clubs, that their lack of pace doesn't affect their game.
Some of his progression should be credited to his central midfield partner, Serigne Modou Kara Mbodj. The partnership they have formed these last two seasons has seen them forming, undoubtedly the best central midfield duo in the Norwegian league. The understanding between them has been essential in both players progress into their developing as players. In those areas where he struggles in his defensive play, Kara makes up for with muscles and power. And it's the same vice versa. Having that said Ruben Yttergård Jenssen is quick of seeing danger and reorganizing his midfield whenever needed. Such is the brilliance with which he reads the game-both in defense and attack.
Ruben Yttergård Jenssen is only 23 years old and a regular call up for the national team of Norway. He`s captain material for his team and one of the most popular players on and off the field. Surely one of the prime examples nowadays of a player who is a fully professional and one who gives he`s best at all times. His performances haven't gone unnoticed during this last transfer window. Dutch club, Vitesse, showed some real interest in him just before the window closed. There has also been interest from other clubs so it's fair to say that all the work he has laid down had earned a deservingly attention from bigger clubs.
Where do I see his future, will he continue to play in Scandinavia or is it time to move on? His team would obviously do a lot to hang onto the services of Ruben Yttergård Jenssen. But it is inevitably that the player will have to leave the club to fulfill his potential as a player.  He would benefit of playing in a ball possession league where he can use his passing skills. The more space he gets the more you will see of his brilliance. I would also like to point out that we`re dealing with a player who easily settles in in new environments – meaning that he will adapt to his new team quicker that one might expect, both on and off the field. With a price tag in the region of € 1.000.000 it isn't much of a gamble for clubs who needs to add some more quality in midfield. Ball possession clubs in leagues such as Netherland, or even Spain, is therefore advised not to hesitate to long. The interest in the Norwegian-Xavi is growing while I am writing this scouting report.
Scouting report on Ruben Yttergård Jenssen written on 12.10.2011
Øyvind Christoffer Johansen
Chief scout, Scandinavian Scouting Agency